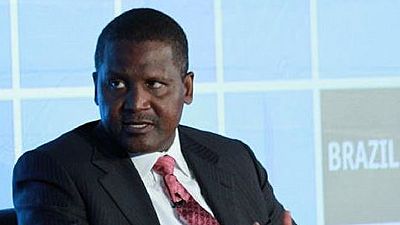 Africa's richest man, Aliko Dangote says Nigeria does not need to turn to the International Monetary Fund (
IMF
) as it plans ways to get out of recession.
The business mogul was speaking in an exclusive interview with
CNBC
Africa channel. He spoke on a wide range of issues including the recession, the naira – Nigeria's currency, – west Africa's economic outlook among others.
According to him, a key challenge to exiting the recession is ''political will.'' The government must have the ''political will in terms of selling some assets, I think it is an easier route than going to the
IMF
or the World Bank to borrow money, because what we need to do is actually to beef up the reserves,'' he said.
One of the companies he wants the government to sell outright is the Nigeria
LNG
(Liquefied Natural Gas) Limited.
"The African finance corporation; it can fetch them $800 million easily. My own suggestion before was that they should even sell 100 percent of
NLNG
. I don't think government should be in any business of investing in sectors of
LNG
.
"A company like that, with earnings of $1.5 billion on the average, they should get anywhere between $12 billion and $15 billion," Dangote stated adding that with the proceeds from the assets sale, Nigeria can shore up her reserves. If that is done the Chief Executive Officer of the Dangote group believed Nigeria will exit recession by December.
He said the recession had hit Nigeria because ''… 90% of the government's foreign exchange earning is from oil, the only way for us to get out of this recession is for us to try and make sure that we move quickly into action. Action by saying that we diversify the economy quickly,'' he told Wole Famurewa.
Nigeria, Africa's second largest economy, officially entered a state of economic recession for the first time in over 20 years. The announcement came weeks ago after figures revealed that the economy contracted for a second consecutive quarter.
According to the Nigeria Bureau of Statistics, the country's Gross Domestic Product (
GDP
) contracted by 2.06% in the second quarter. The GDP shrunk by 0.36%.
A recession is a period of temporary economic decline during which trade and industrial activities are reduced, generally identified by a fall in GDP in two successive quarters.
The cause of the slump is believed largely to be as a result of the slump of oil prices on the world market.
That situation has been worsened by renewed insurgency in the Niger Delta region, the attacks on oil installations continue to disrupt production of oil in the region.